SEND Information Report
1. What kinds of SEND are provided for?
A child or young person has SEND if they have a learning difficulty or disability which calls for special educational provision to be made for him or her.
A child or young person has a learning difficulty or disability if he or she:
Has a significantly greater difficulty in learning than the majority of others of the same age
Or
Has a disability which prevents or hinders him or her from making use of facilities of a kind generally provided for others of the same age in mainstream schools
At Biggleswade Academy we provide for all areas of SEND. There are four broad areas of need and the Academy uses these to identify what action need to be taken to provide for and support the pupil.
Cognition and Learning
Communication and Interaction
Social, Emotional and Mental Health Difficulties
Sensory and Physical
2. What are the policies for identifying children and young people with SEND and assessing their needs?
Early Years
The Early Years Foundation Stage has arrangements in place to identify and support children with SEND or disabilities and to promote equality of opportunity for children in their care. This is set out in the EYFS Framework.
In addition to the formal checks, the Academy's Early Years Practitioners (EYPs) will monitor and review the progress and development of all children throughout the early years.
Where a child appears to be behind expected levels, or where a child's progress gives cause for concern, practitioners will consider all the information about the child's learning and development from within and beyond the setting, from formal checks, from practitioner observations and from any more detailed assessment of the child's needs.
All the information will be brought together with the observations of parents and considered with them. The Early Years SENDCo and the Academy SENDCo will work together with the parents to assess the child's need(s) and consult with the Early Years Support Team if required.
If a pupil is identified as having SEND by meeting the criteria as outlined in the Graduated Approach, they will be placed on the appropriate stage (Stage 1 or Stage 2) in accordance with 'Central Bedfordshire's Guidance SEND: Early Years' and placed on the Academy's SEND Register. The Academy will take action to remove any barriers to learning and put effective special educational provision in place. An I.E.P. diary or SEND Support Plan will be used to record all provision and support.
Progress is reviewed half termly and a decision is made whether to remove the pupil from the register, continue on Stage 1, move onto Stage 2 or proceed to make a request for an Educational Needs Assessment (Stage 3).
Years 1-8
High quality teaching that is differentiated and personalised will meet the individual needs of the majority of children and young people. However, some children and young people need educational provision that is additional to or different from this.
"The benefits of early identification are widely recognised - identifying need at the earliest point and then making effective provision improves long-term outcomes for the child or young person."
(6.14 SEND Code of Practice, 2014)
A pupil has SEND where their learning difficulty or disability calls for special educational provision, namely provision different to or additional to that normally available to pupils of the same age.
Teachers/practitioners are responsible and accountable for the progress and development of the pupils in their class. High quality teaching, differentiated for individuals, is the first step in responding to pupils who have or may have SEND. As such, all staff at Biggleswade Academy are required to identify and address the SEND needs of pupils. Early identification is to work out what action the school needs to take, not to fit a pupil into a category.
If a Form Tutor has initial concerns regarding a pupil, they are required to complete an 'Initial Concerns Form' and E-mail it to the SEND Department documenting what they have already provided for the pupil in the way of high quality inclusive teaching. The SENDCo will review all documentation and evidence before deciding on a plan of action.
A Graduated Approach to SEND Support (Assess, Plan, Do and Review)
All pupils will have access to a broad and balanced curriculum. Teachers will set high expectations for every pupil, whatever their prior attainment. Teachers will then use appropriate assessment to set targets which will be deliberately ambitious.
Teachers will assess each pupil's current skills using the 'I Can' statements set our for each year group from the Early Years Foundation Stage to Year 8.
Regular formative assessments will be made for all pupils and this will identify pupils making progress or less than expected progress given their age and individual circumstances.
Staff will continually assess, plan, do and review.
This cyclical process enables academy staff to continually reflect on the strategies used to meet the needs of the pupils.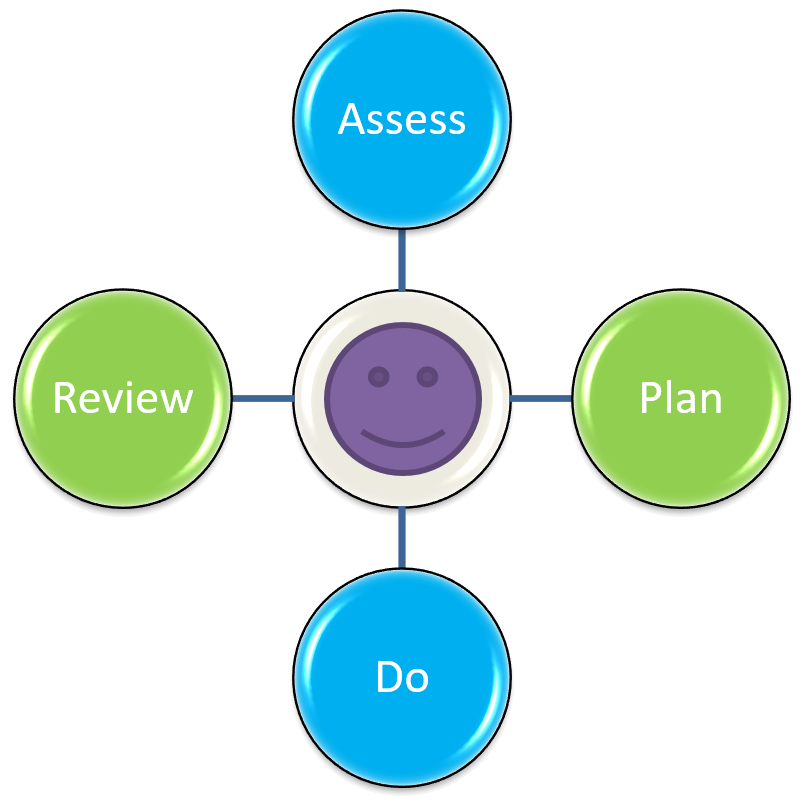 If a pupil is identified as having SEND by using the criteria set out in the 'Graduated Approach', they will be placed on the appropriate stage (Stage 1 or Stage 2) in accordance with the 'Central Bedfordshire's Guidance SEND 5-16: A Graduated Approach' and placed on the Academy's SEND Register. The Academy will take action to remove any barriers to learning and put effective special educational provision in place. A SEND Support Plan will be used to record all provision and support for pupils on Stage 1 and 2 or those pupils who have an Education Health Care Plan (EHCP).
Where a potential special educational need has been identified, the teacher or subject teacher will be at the heart of the graduated approach, driving the movement around the four stages of action supported by the Academy's SEND Co and, where appropriate, other specialist staff.
Pupils will only be identified as having SEND if they do not make adequate progress once they have had all the interventions/adjustments and high quality personalised teaching.
Parents and carers will be part of this process at all times.
3. How will the school let me know if they have any concerns about my child's learning, special educational need or disability?
Your child's Form Teacher may initially speak to you at the end of a normal school day and arrange a further time to discuss the concerns
The Form Tutor may also discuss any concerns with you at a Parent Consultation Meeting
The Form Tutor along with the SENDCo may arrange a meeting with you to discuss any issues or concerns
If your child has been identified as having SEND, they will have a provision map or SEND Support Plan where termly review meetings will be held with the Class/Form Tutor. You do not have to wait to see a member of staff. If you have continued concerns, please contact the Form Tutor as soon as possible
4. Making provision for pupils with SEND
When a pupil has been identified as having a special educational need, their stage and area(s) of need are documented on the 'Inclusion Register' which is made accessible to all staff.
A Pupil Profile is completed which is an overview of:
Personal details
SEND need/stage
Medication
Diagnosis
Strengths/weaknesses
History
Strategies to be used in the classroom
All staff working with the pupil are provided with the Pupil Profile.
Stage 1
A SEND Support Plan is completed by the Form Tutor which identifies the need(s) and/or learning difficulty. Short and long term outcomes to be achieved are devised and agreed with the parents (and pupil where appropriate) which are followed for one term. The teacher is responsible and accountable for the SEND Support Plan and will ensure that the strategies are implemented in order that the outcomes can be achieved.
The SEND Support Plan is reviewed termly in collaboration with the parents/pupil where progress will be measured. If progres hasn't been made and the support is still required, another SEND Support Plan will be completed with new outcomes to be achieved and new strategies to be implemented.
It is always the intention to promote inclusion so support is provided within the classroom in the following ways:
Quality First Teaching
High expectations
Quality teacher talk
Varied and differentiated delivery of the lesson using a variety of teaching styles - visual, auditory, kinaesthetic and tactile
Differentiated resources which suit the learning style of the pupils
Suitable challenge for all pupils
Learning Support Assistant (LSA) support (where and when required)
Small group work
Stage 2/EHCP
When a pupil is on Stage 2 or above, the responsibility of the implementation of the SEND Support Plan is still the Class Teacher/Form Tutor but overseen by the SENDCo. Where a pupil requires specific, targeted support, the pupil may be withdrawn from the class on a 1:1 basis or within a small group depending on the need.
The formative 'I Can' statements, in addition to any electronic-based year assessments, will have identified areas of need, so in consultation with the SENDCo, a specific, targeted intervention may be used to aid learning and progress. this may be delivered by the SENDCo, Class Teacher or a LSA.
A provision map is used to monitor and track the progress of the pupil to identify whether the intervention has had maximum impact. An assessment will be carried out before and after the intervention to evidence effectiveness.
Where a pupil has an EHCP, provision is provided in line with the legal recommendations set out in the EHCP. This may require the support to be provided within the classroom, in a small group, or on a 1:1 basis depending on need.
The Inclusion Department will continuously monitor the effectiveness of support and interventions, making appropriate adaptions when and where needed to meet the needs of the pupil.
5. Arrangements for assessing and reviewing progress of pupils with SEND
The Academy uses a number of methods to know how well children/young people with special educational needs are doing:
Teacher Assessments - 'I Can' statements
GL Assessments in Year 5 & 6
Termly behaviour and attainment report
Communication
Parents are informed of their child's progress and attainment via two Parent Consultation Evenings (one in the Autumn Term and on in the Spring Term) with a final end of year report that is sent home in July. Parents can comment on the report and/or can make an appointment to meet with the teacher.
Initially, parents are encouraged to make contact their child's Form Tutor by phoning the Academy to make an appointment or requesting a meeting by writing in the child's planner. A phone conversation or meeting can easily be arranged. If parents want to contact the SENDCo or another member of staff, they can contact the office. A message will be passed to the relevant SENDCo who will contact them at the earliest opportunity. It is highly recommended to make an appointment to see staff rather than turn up unexpectedly.
All SEND pupils have a blue Home/School book which should go between home and school daily. The book can be written in by all members of staff and all family members.
Termly coffee mornings are arranged by the Inclusion Department where parents/carers can meet the LSA working with their son/daughter and have the opportunity to find out how things are going. There is also a termly Parent Support Group where parents/carers can come to meet up with the SENDCo and Learning Support Assistants, meet other parents/carers, discuss any general concerns, issues or interests regarding how to support their child. All of this can be undertaken in a relaxed atmosphere.
There are also regular parent/carer information meetings where parents/carers are invited in to discuss the teaching of phonics, maths, handwriting, reading etc.
In addition, any information received from outside agencies (for example, the Avenue or Parent Partnership) is now sent via ParentMail.
6. How is the curriculum matched to the needs of the pupil?
The Academy follows the National Curriculum for English and Maths, the International Primary Curriculum for Science, ICT and foundation subjects up to Year 6 and the National Curriculum for all KS3 subjects. Subject planning is overseen by the Senior Leadership Team (SLT) and subject leaders with plans matched to the year group. The 'I Can' statements are taken from the current National Curriculum and are again specific to the age group.
Growth Mindset underpins the approach to how work is set and teachers have high expectations of all their pupils, including SEND pupils. The learning objective is the same for all pupils but the teaching, delivery and resources are differentiated to meet the learning styles of the pupil. This can happen in a number of ways:
Pre-teaching of vocabulary before the lesson
More visuals for pupils with SEND
More practical activities for those who need to learn kinaesthetically
Work printed onto coloured paper rather than white
Selected seating to maximise learning
Task plans used to break instructions and work into manageable chunks
Use of an iPad or laptop as an alternative to writing
Use of Interactive White Boards and coloured backgrounds
Simplified slides for ASD pupils
Use of colour for dyslexic pupils
Work laid out simplistically do there is less dense text
Repetition to aid retention of information
Teachers and LSAs are responsible for ensuring that all pupils can access the learning yet promote independence. The SOARR approach is used by support staff (Scaffold, Observe, Assess, Reflect and Review) when supporting pupils.
7. Accessibility
In line with the Equality Act 2010, the Academy has been adapted so that all pupils can access the curriculum effectively. It is wheelchair accessible and the SENDCo liaises closely with numerous medical professionals such as Physiotherapists, Occupational Therapists and the School Nurse. The site management staff then ensure that all pupils, especially those with a physical or medical disability can access all areas.
There is a lift situated at the Mead End site and the new building at the Kitelands Road site hosts a state of the are toilet/changing room with electronic changing bed, hoist and shower.
The thresholds to buildings and classrooms have all been sloped, ramps installed or modernised, plus doors, entrances and exits widened to improve movement and accessibility around the academy. There is also disabled parking at the Mead End and Kitelands Road sites.
8. Additional activities, how will my child be included in activities outside the school classroom including trips?
There are a wide range of extra-curricular activities open to all pupils across the academy no matter what their age, ability, disability or skill level. Parents/carers are encouraged to discuss any concerns or issues regarding inclusion and reasonable adjustments will be made to accommodate everyone.
9. What support is there for the overall well-being of the pupils?
There are arrangements in place to support pupils with medical conditions. As a result of these arrangements, these children can access and enjoy the same opportunities at school as any other child.
Pupils with a medical condition or diagnosis are placed on the Academy's medical register and, where needed, working together with Local Authorities, health professionals and other support services, an individual care plan will be drawn up, agreed by all involved and disseminated to all staff who work with the pupil.
Academy staff receive sufficient and suitable training for healthcare professionals and achieve the necessary level of competency before they take on the responsibility to support pupils with medical conditions.
Where children and young people also have SEND, their provision should be planned and delivered in a co-ordinated way with the healthcare plan.
A medical diagnosis or a disability does not necessarily imply SEN. It may not be necessary for a child or young person with a particular diagnosis or medical condition to have an Education, Health and Care Plan, or to need any form of additional educational provision. It is the child or young person's educational needs rather than a medical diagnosis that must be considered. Some children or young people may not require an Education, Health and Care Plan or school-based SEN provision even though they have medical conditions that, if not properly managed, could hinder their access to education.
Social, Emotional and Mental Health
For some children and young people, difficulties in their emotional and social development can mean that they require additional and different provision in order for them to achieve. Children and young people who have difficulties with their emotional and social development may have immature social skills and kind it difficult to make and sustain healthy relationships. These difficulties may be displayed through the young person becoming withdrawn or isolated, as well as through challenging, disruptive or disturbing behaviour.
A wide range of mental health problems might require adjustments to be made in school. These can manifest as difficulties such as problems of mood (anxiety or depression), problems of conduct (oppositional defiance and more severe conduct problems including aggression), self-harming, substance abuse, eating disorders or physical symptoms that are medically unexplained.
If adjustments need to be made in school as it is affecting the education need, this can be addressed by using a SEND Support Plan where staff will identify outcomes to be achieved and strategies to enable them to do this.
Mrs Christine Gilbert works to drive forward the support to pupils in Years Reception to 8 who are struggling in this particular area. She can provide a 'counsellor' role to pupils and parents in addition to being able to signpost to agencies who have expertise in specific areas. She is also the Safeguarding Lead Practitioner with many years of experience. This means that she fully understands the difficulties that can present themselves, the support that can be provided, has the contacts with outside agencies, such as: CHUMS, AMHS, Homestart and Children's Services.
Mrs Christine Gilbert also co-ordinates the Academy's pupil support system 'Big Buddies' which again, provides social and emotional support to the young people who need it.
Behaviour concerns are also addressed by using the Academy's Rewards and Sanctions Policy in conjunction with the Form Tutors, Progress Leaders, Youth Support Workers and Vice Principal for Care, Guidance and Support.
10. What training have the staff who support SEND had or what training are they having?
Mrs Alison Cole (SENDCo) is a qualified teacher
Mrs Clare Lake is the ASD Lead Teacher - having an ASD Provision means that our understanding of autism is in depth and highly skilled in order to meet their personalised and unique needs.
Mrs Julie Coles is SENDCo at The Lawns
The Academy has a high number of support staff (Learning Support Assistants) who receive regular training from the SENDCos regarding their role, which includes pedagogical knowledge to update their understanding of SEND needs. In addition to this, LSAs also receive training from outside agencies, such as the Advisory Teacher for Autism.
All staff have Safeguarding training annually.
11. Transition
Pre-school - Nursery - Reception (Lower School)
Year 4 - Year 5 (Mead End Site)
Year 8 - Year 9 (Upper Schools)
A high number of pupils begin life at Biggleswade Academy in the Pre-school at the age of 2 years old. They move to the Kitelands Road site and then onto the Mead End sute with ease and fluidity because staff liaise with each other regularly to enable effective transition. Elsewhere, similar transition processes are undertaken of equal value and importance for the children concerned.
There are regular visits to the appropriate new setting and staff visit each other's settings to familiarise themselves with pupils and their needs.
Pupils with SEND make more frequent visits with staff and their parents/carers and thorough observations of pupils are made to acquire as much information as possible. All pupils receive a visit from the Progress Leader for Year 5 and, in addition, SEND pupils receive a visit from the SENDCo. They also receive transition booklets at the end of the Summer Term, are invited to attend a transition camp over a weekend (in Year 4) at Biggleswade Academy and finally attend a 'Rollover Day' which aids preparation and reduces anxiety.
Pupil transferring from other schools follow the same transition process but may require more visits as the Academy is less familiar to them. Local SENDCos work very closely together to share information of their pupils to aid the transition process.
12. Who are the best people to talk to at Biggleswade Academy about my child's difficulties with learning, Special Educational Needs and Disabilities?
Initially, talk to your child's Form Tutor about your concerns
It is likely that the Form Tutor has already spoken to the SENDCo or completed an 'Initial Concerns Form'.
If you continue to have concerns, you may wish to arrange a meeting with the relevant SENDCo
13. The Local Authority Offer
You can find out what Central Bedfordshire offer for SEND pupils on the CBC website.